A themed tour with Prism Book Tours.
 Guest Post by Alethea Kontis
How do you keep track and store info and facts on the series? Character worksheets? World bible?
Back when I wrote
The Dark-Hunter Companion
for Sherrilyn Kenyon, I asked Sherri something very similar, though far less polite. I had a notebook full of handwritten notes, made several calls to several sources, and had a friend tour New Orleans on my behalf. I had a word document with thousands upon thousands of words compiled into a physical encyclopedia of the world of Sherri's Dark-Hunters, and there were STILL SO MANY BOOKS LEFT TO WRITE. "How in the world do you keep all this crap in your head?" I asked. Sherri just laughed.Now, I get it.I know what it's like, having an entire universe full of fully-formed people in your head, knowing where certain characters came from and where they're going as if you had lived their lives yourself. I have some things written down for reference–every time I listen to
Enchanted
on audio I make notes–but so much of it is in my head. This world grows inside me more enormous every single day, creating more and more stories for me to write.
Things I use as reference:
The Excel Spreadsheet of Ages: During one of the copyedits of Enchanted–not the revision edits, but the copyedit, which comes after–the publisher decided that Prince Rumbold was too old to be the main character, especially is Sunday Woodcutter was "not quite 16" (the same age as Lydia Bennet). I called upon friend and fellow author Eric James Stone, who is much smarter about Excel spreadsheets than I am. He helped me set something up that would let me input various birth dates and calculate all the Woodcutter siblings' ages at certain key events in history. I used this to massage the ages of my protagonists closer together without making certain scenes completely unbelievable. It was the toughest revision I had to do, but I'm glad it was set in stone before any of the other books were written.
The Woodcutter Siblings Scrivener File: Thanks to a great workshop led by Gwen Hernandez, I learned how to use Scrivener before writing Dearest. I certainly wouldn't say I know everything about it, but I know enough to enjoy using it to write my books. I used this program to create a place where I could collect a basic profile page on each of the Woodcutters–things like: Age in Book, Hair and Eye Color, Character Inspired By, and the "base note" fairy tale for each of their books, as well as other fairy tales to pull upon for influence. I expect this file will eventually grow to include other characters in the world of Arilland as well.
The Arilland Easter Egg Page: I've always been a big fan of DVD extras, so I created a page on my website where I list handy links to essays, videos, stories, articles and the like that are some how connected to the series. You can find it here:
http://aletheakontis.com/about/arilland/
Pinterest Boards: During the Enchanted blog tour, a blogger asked me if I had a "dream cast" for the novel. I only had a couple of characters in mind (Adewale Akinnuoye-Agbaje as Jolicoeur; Kenneth Branagh as the Evil King), but it lit the spark of inspiration. I began to make Pinterest boards for all of the Woodcutter novels. And then, as I was preparing to write Dearest, I actually cast the Swan brothers BEFORE I wrote them. I'm not sure I have ever fallen in love with characters so hard. It was one of the most amazing writing experiences I have ever had.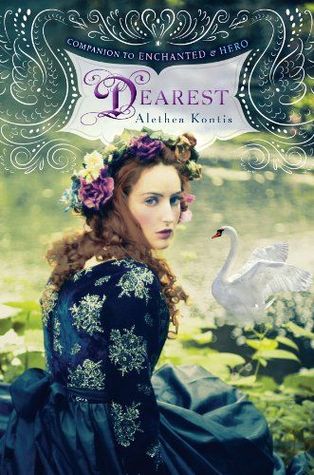 Dearest
(Woodcutter Sisters, #3)
by Alethea Kontis
YA Fantasy
Hardcover & ebook, 320 Pages
February 3rd 2015 by HMH Books for Young Readers
"A fabulous fairy-tale mashup that deserves hordes of avid readers. Absolutely delectable." —Kirkus Reviews, starred review of award-winning series debut Enchanted
Readers met the Woodcutter sisters (named after the days of the week) in Enchanted and Hero. In this delightful third book, Alethea Kontis weaves together some fine-feathered fairy tales to focus on Friday Woodcutter, the kind and loving seamstress. When Friday stumbles upon seven sleeping brothers in her sister Sunday's palace, she takes one look at Tristan and knows he's her future. But the brothers are cursed to be swans by day. Can Friday's unique magic somehow break the spell?
The Other Woodcutter Sisters Books
New York Times bestselling author Alethea Kontis is a princess, a fairy godmother, and a geek. She's known for screwing up the alphabet, scolding vampire hunters, and ranting about fairy tales on YouTube.
Her published works include: The Wonderland Alphabet (with Janet K. Lee), Diary of a Mad Scientist Garden Gnome (with Janet K. Lee), the AlphaOops series (with Bob Kolar), the Woodcutter Sisters fairy tale series, and The Dark-Hunter Companion (with Sherrilyn Kenyon). Her short fiction, essays, and poetry have appeared in a myriad of anthologies and magazines.
Her YA fairy tale novel, Enchanted, won the Gelett Burgess Children's Book Award in 2012 and the Garden State Teen Book Award i 2015. Enchanted was nominated for the Audie Award in 2013, and was selected for World Book Night in 2014. Both Enchanted and its sequel, Hero, were nominated for the Andre Norton Award.
Born in Burlington, Vermont, Alethea currently lives and writes in Florida, on the Space Coast. She makes the best baklava you've ever tasted and sleeps with a teddy bear named Charlie.
Check out Alethea's Road Tour HERE!
3 Woodcutter Sisters Prize Packs (signed copies of Enchanted, Hero, & Dearest – US Only)
Ends March 8th
Follow the February Tour!
1 – Launch
2 – Lilac Reviews
3 – Special post @ Waterworld Mermaids
3 – Coffee Books & Art & The Book Lovers' Lounge
4 – Special post @ USA Today's Happy Ever After
4 – Buried Under Books, Mommabears Book Blog, & Rabid Reads
5 – Interview @ J.T. Ellison
5 – Gidget Girls Reading
6 – Zerina Blossom & Geo Librarian
8 – Welcome to Book City
9 – Kelly P's Blog & Katy's Krazy Books
10 – Mel's Shelves & Jan Edwards
11 – Katie's Clean Book Collection
12 – A Backwards Story & Wishful Endings
13 – Library of a Book Witch & The Quotable
14 – Biggest Literary Crushes post on @ Teen Reads
15 – The Written Adventure
16 – My Life Loves and Passion & Colorimetry
17 – I Am A Reader & The Library of the Seen
18 – Special post on @ Dear Teen Me
18 – Printcess & Living a Goddess Life & Melissa's Eclectic Bookshelf
19 – 100 Pages A Day & mrsjennyreads
20 – Books and Ashes & Addicted Readers
22 – Miss Little Book Addict YA House of Books
23 – SBM Book Obsession
24 – Deal Sharing Aunt
25 – Min Reads and Reviews
26 – Pieces of Whimsy & Wonderous Reviews
27 – The Scribbling Sprite
28 – Grand Finale